Hair Growth Treatments like PRP, and Cyclical Vitamin Therapy, Mesotherapy and LLLT make it possible to combat hair loss and thinning and promote healthy hair growth.
What Are
The Reasons For Hair Loss?
There are multiple reasons for hair loss. Some of the most reasons include:
Ageing: Ageing is one of the most common reasons for hair loss. As one ages, hair fallbegins to increase and one starts noticing thinning of hair as well.

Heredity: A

ndrogenetic alopecia is a

lso referred to as hereditary alopecia. This type of hair loss can be inherited from both sides of the family and is often random when gender is concerned. This  type of hair loss is common in men and the pattern and conditions vary greatly.

Hormonal Changes: Hormonal changes also are one of the primary reasons for hair loss. In men, DHT plays a major role in causing hair thinning and eventually baldness. In women, the role of hormones in causing hair loss in multifactorial. Issues like PCOS (Polycystic ovary syndrome), PCOD (Polycystic Oary Disorder), Thyroid imbalance, etc can cause hair loss.
Pregnancy: In women, a lot of changes take place in the body of a woman. These drastic changes may also result in hair fall.
Scalp infection:

 Fungal or bacterial infection on the scalp can cause hair loss. Recurring infections also may cause scarring which hinders hair growth.

Medications:

Certain medicines used for the treatment of cancers, high blood pressure, heart problems, depression and arthritis can cause hair loss. Some oral contraceptive pills also cause hair loss.

Telogen Effluvium:It is temporary hair loss or thinning of scalp hair after a major illness or a major operation. It can also occur after massive weight loss or emotional stress.
What Are
Hair Growth Treatments?
Hair Fall is one of the leading issues faced by people and this hair fall might be the result of multiple issues.. But hair fall does not necessarily mean that patients should get a hair transplant done. Sometimes the hair fall can be stopped and turned into hair growth with our scientifically proven solutions. There are various hair loss treatments available that help to counter the issue of hair fall and restore healthy, thick and shiny looking hair that everybody dreams of.
Hair growth treatments are one of the many advanced solutions our trichology department offers. We have researched and come up with the best solutions that can lead you from hair loss to hair growth and restoration. Most of our hair loss treatments are non-invasive or minimally invasive in nature. They are safe and effective. 
Pandit Clinic's hair loss treatments can be used on both female patients and male patients. They have been tried and tested successfully. 
What To
Expect At A Consultation With Trichologist?
A trichologist is a perfect person to guide you through your hair fall issues and suggest a good hair loss treatment for you. Pandit Clinic's expert trichologist Dr Sharvari Pandit makes sure that she analzes each and every patient before suggesting a couirse of treatment according to their own needs and requirements. 
Hair Loss Treatments do not work with a 'cookie cutter' approach. They need to be customized acording to the situation at hand. Dr Sharvari undersdtands this and hence gives utmost importance to consultations. 
Consultations are also a great time for you to analyze your comfort level and rapport with the doctor. At Pandit Clinic, you are encouraged to ask as many questions as you want in order to have a clarity of mind and then take an informed decision.
What
is Platelet Rich Plasma (PRP)?
PRP is essentially blood plasma that has been processed to contain a high concentration of platelets. It is derived from the patient's whole blood. In a very simple process (that usually requires very less blood), the patient's blood is centrifuged, allowing the platelet-rich plasma to be extracted. It is then activated with fillers like thrombin or calcium chloride that stimulates the platelets to stimulate growth factors. In some cases, it can be used without any filler too. This plasma is then used to treat hair loss.
Platelet Rich Plasma Therapy is one of the best hair loss treatment. PRP relies on stimulating the body's own natural healing power to optimize the biology of the healing environment. PRP is an effective and non-invasive treatment that helps in hair growth. It involves treating hair loss with the power of the platelets of your own blood. This treatment works on the principle of increased collagen production with the help of platelets which are also referred to as 'liquid gold'.
PRP works by emulating the body's own natural healing process. Injecting PRP induces the healing platelets to create a rich fibrin mesh. This fibrin mesh, in turn, calls out to natural healing cells, releasing growth factors and stimulating the process of fibroblast production. In short, the PRP derived from the patient's own blood can augment or stimulate healing by turning on the same biological healing process that normally occurs in the human body after injury.
Platelet-rich plasma can be used in both the non-operative and operative settings to improve or stimulate the healing response.
What Are
The Advantages Of PRP?
Since PRP uses the body's own blood for hair loss treatment, it offers many advantages. Some of them are:
Since PRP uses the body's own blood for rejuvenation, it offers many advantages. Some of them are:
PRP is finding many uses in medical treatment and cosmetic procedures. PRP therapy has been effectively used for managing nerve injuries, bone repair and regeneration, skin rejuvenation, hair loss treatment, scarring, muscle injury to the heart, oral surgery and several other surgical procedures.
Here are the cosmetic uses of PRP:
Are There
Any Side Effects Of PRP therapy?
PRP is relatively a new therapy. It has received much media attention due to the treatment availed by high profiled celebrities for sports-related injuries. Possible side effects include the possibility of infection, the formation of blood clots, temporary skin discolouration and allergic reaction in the injured area. As with every cosmetic procedure, your surgeon is the best person to advise you whether PRP therapy is suitable for you.
How Long
Does PRP Last For Hair Loss Treatment?
PRP therapy has proved to be very effective and helpful for hair loss treatments. Generally, on an average a person can observe  increase in hair strength and quality after 4 to 6 of the treatment. Sessions are repeated after 3 months initially and then touch up sessions are required after everey 6 to 12 months.
PRP therapy for hair loss generally involves giving 15 to 20 injections in the scalp. Although it sound a lot, the syringes used are very thin and does not hurt as one would assume. Patients who have undergone PRP explain that a stinging sensation can be observed when the plasma is being injected into the scalp.
Who Is
A Good Candidate For Hair Loss Treatment Through PRP?
The ideal candidate for A PRP therapy for combating hair loss is:
Men and women who are in the initial stages of their hairloss.
Those who are experiencing hair thinning due to various reasons.
Those who have hair loss  in small patches or isolated areas.
If you fall into the above criteria, you are an ideal candidate for Hair Loss Treatments through PRP.
What Are
The Questions To Ask Your Trichologist?
What Is
Cyclical Vitamin Therapy?
Cyclical therapy means giving vitamins with calcium supplement on a single day, followed by iron and mineral combination product on next day and finally amino acid blend on the third. These are given in these combinations so as to avoid nutrient to nutrient interaction and enhance absorption.
This therapy was developed after a decade of research on patients with hair loss and thinning. Hair requires nutritional support for growth through the anagen phase and also needs support for maintenance.
The Cyclical vitamin therapy is effective in dealing with both female pattern baldness as well as male pattern baldness. In the early stages in men, it can restore hair along with minoxidil as the hair follicles are alive. In females, the hair follicles are alive over many years and thus results are good. In later stages, it plays a major role in hair restoration surgery.
Cyclical Vitamin
Therapy Results
Hair is one of the few factors that define your personality. Healthy hair gives you a positive vibe. There are many therapies available for hair loss treatment. Mesotherapy is one of them. Mesotherapy is minimally invasive and safe hair growth treatment. We at Pandit Clinic are experts in trichology and have years of experience in dealing with hair loss cases. 
Mesotherapy was invented by the Frenchman Dr. Michel Pistor in 1958 to treat conditions in rheumatology, sports and mainly as a pain-relieving technique. Today, it is used as a collagen stimulant and finds important use in hair loss treatment.
Mesotherapy is a surgical technique that involves injecting very small, microinjections of medicated substances directly under the skin. In the process, a number of medicines/vitamins/solutions/stem cells are injected into the scalp tissue near the hair follicles (mesoderm) to stimulate the hair growth. These are to act as hair growth factors. Multiple sessions where such injections are given into the problem areas directly at the site of the problem. The injecting needles used are very thin to minimise the pain.
A lot of motorized machines like mesopens, mesoguns, mesorollers are used for injection ease and patient comfort. Local anaesthesia is used to numb the area to be treated.
Is Mesotherapy
Good For Hair?
Mesotherapy is an excellent option when it comes to hair loss treatments. It involves injecting a number of medicines/vitamins/solutions/stem cells which stimulate collagen production which is beneficial for having a healthy hair growth.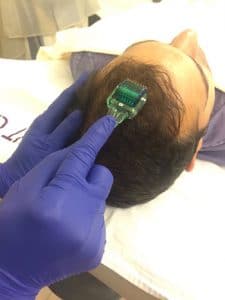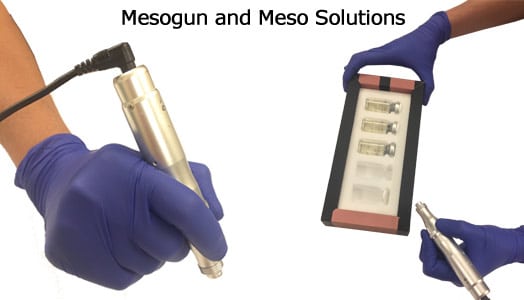 What is
Low Level Laser Therapy (LLLT)?
Low-Level Laser Therapy is a Hungarian invention that has helped millions of people with hair growth. LLLT works by enhancing the oxygen exchange chain in the mitochondria, leading to more ATP and Cyclic AMP formation. The displacement of nitric oxide & toxins out of the cells allows more oxygen to enter them. This stimulates better growth, induces angiogenesis, forming new blood vessels around the hair follicles, reduces inflammation and activates a response to reactive oxygen species.
Dr Sharvari Pandit has observed that LL laser therapy for hair loss works equally well for both men and women.
How does
LLLT Work for Hair Growth?
The red light wavelength of the spectrum from a laser that emits 650 – 670 nm light can stimulate cells within the follicle, encouraging hair growth. The energy of the low-level lasers is delivered directly to the scalp. It promotes cellular metabolism by increasing blood circulation and oxygen to the hair follicles. This, in turn, stimulates hair in the resting phase (telogen) to the growth phase (anagen).
LLLT works for anybody who has just started to notice hair loss to anyone who is suffering from a hair loss.It is ideal to have LLLT for hair growth twice a week. For busy patients, even once a week is effective for hair growth stimulation.
You need to wear a special helmet provided by the therapist for 20 minutes. The device at Pandit Clinic has an auto shut off after 20-25 minutes. As per the new classification developed by US FDA for this Laser, it is LLLT – Low Light Laser Therapy. The strength is just ½ Watts, so is very safe to use.
Dr. Sharvari offers this hair growth treatment at Pandit Clinic, Pune.
LLLT is an absolutely painless procedure. One can comfortably sit and listen to music, read or even scroll on their smart phones during the on going procedure. There is no discomfort on pain that the patient feels during the treatment.
LLLT is a safe and effective hair loss treatment. Research and studies have found that Low Level Laser Therapy successfully helps in hair growth in both men as well as women.
Difference Between
Surgical and Non-Surgical Hair Loss Treatment
The extent of your hair loss is key when considering whether surgical hair transplant procedures or non-surgical hair restoration is right for you.
Having enough active, healthy donor hair growing on your head is critical, so it's imperative to get a proper diagnosis for the cause of your hair loss from a qualified medical professional. 
Hair Transplant - Permanent Solution For Hair Loss
If your hair loss is more advanced or if you haven't seen the results you were hoping for with other treatments, you might consider a hair transplant to improve the density of your hair.
Dermatologist, Venereologist & Trichologist
Dr. Sharvari Pandit is a Consultant Dermatologist, Venereologist & Trichologist at Pandit Clinic. She has an experience of more than 10 years and acts as a visiting consultant at MMF's Joshi Hospital, Ramkrishna Math Polyclinic, Skin Solutions clinic, Sanjeevan Hospital, Police Hospital, Pune and SRPF's Hospital, Pune. Dr. Sharvari's areas of special interest include aesthetic surgeries, Laser hair reduction, skin and facial rejuvenation, anti-ageing treatments (like HA Fillers and Botulinum Toxin) and hair fall treatments.
Dermatologist, Venereologist & Trichologist
Dr. Sharvari Pandit is a Consultant Dermatologist, Venereologist & Trichologist at Pandit Clinic. She has an experience of more than 10 years and acts as a visiting consultant at MMF's Joshi Hospital, Ramkrishna Math Polyclinic, Skin Solutions clinic, Sanjeevan Hospital, Police Hospital, Pune and SRPF's Hospital, Pune. Dr. Sharvari's areas of special interest include aesthetic surgeries, Laser hair reduction, skin and facial rejuvenation, anti-ageing treatments (like HA Fillers and Botulinum Toxin) and hair fall treatments.
Virtual Video Consultations
100% SAFE AND SECURE CALLS WITH ENCRYPTION. YOUR PRIVACY AND CONFIDENTIALITY IS GUARANTEED
Consult
Dr. Sharvari Pandit


(Cosmetologist/ Dermatologist)
Make an appointment for a virtual consultation with Dr. Sharvari Pandit (NEW PATIENTS ONLY).
Dr. Sharvari Pandit is available for Virtual Video Consultations from Monday – Saturday between the hours of 11:00 am – 8:00 pm. Virtual Video Consultations will be via WhatsApp and must be booked in advance. To book a video consultation, contact us at +91 9850880048

If you are an existing patient with any and all queries or have an emergency, please contact the clinic on +91 9850880048
Virtual Video Consultation Fees
Rs. 1500
The Consultation Fees Must Be Paid Online by
GOOGLE PAY

BEFORE YOUR APPOINTMENT. See The Instructions On Appointment Confirmations
Your virtual video consultation includes:
You Might Be Interested In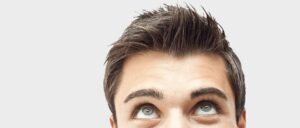 Treatments for men
Call us +91 88059 80048 Home Trichology Hair Transplant Hair Transplant Surgery with techniques like FUE and FUT to treat alopecia (baldness). Call us +91
Read More »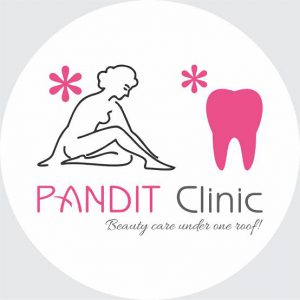 Trichology
Call us +91 88059 80048 Home Trichology Hair Analysis System State-of-the-art technology and scalp diagnosis tools to analyse hair thickness, hair density and hair growth,
Read More »