Parents today always ensure that their children get the best of everything; right from schooling to medical treatments. This search for the best also involves finding the perfect pediatric dentist who not only helps in maintaining the oral health of the kid, but also is compassionate and understanding towards childrens' needs. However, many parents go wrong in this case, and the child's first visit to the dentist turns out to be a nightmare not only for the kids, but the parent as well.
Know more about the criteria, to find a perfect 'child dentist near me', who actually strives towards giving the best treatment to the kids as well as who cancels the notion of 'scary' and 'dentist' going hand in hand.
What Is
Pediatric Dentistry?
Pediatric dentistry deals with the dental care of the children from the infant stage to all the way  to the teenage stage. Unlike regular dentists, a pediatric dentist is a professional who has the  knowledge and skills to treat various dental health problems faced by the children. They are very  well trained and experienced in handling children's oral health issues and behavior. 
What Are
The Common Dental Problems For Children?
Children need attention and care when it comes to their dental health. It is important to develop  good hygiene practice from the start and treat any problems if they exist without any delay. Here are  some common dental problems that children experience. 
Tooth decay is one of the major problems faced by children. It is caused by the  accumulation of certain bacteria in the mouth. These bacteria when comes in contact  with food containing high sugar content, produces acid which leads to tooth decay or  cavities. If not treated on time, this can cause severe pain and the child may face problems in chewing the food.  
Children can face sensitivity in teeth due to various reasons, including tooth decay or  eating/drinking something hot or cold. In such cases, it is advisable to visit the dentist and  get the checkup done to know the exact cause and do the prescribed treatment.
The habit of thumb-sucking is normal in babies but only up to a certain point. Thumb sucking can cause abnormal oral development, improper alignment, and can also affect  the delivery of the speech. 
Gum disease, also known as Gingivitis, refers to the swelling of the gum tissue. Improper  oral hygiene leads to this condition and can even cause bleeding gums. Healthy gums are  crucial to support the overall development of teeth and hence, one should pay special  attention to this and take proper care. 
Most people think of Dental anxiety as an underrated problem, but it needs to be taken  seriously. A child may get frightened and avoid a visit to the dentist. Giving early attention  to this problem can prevent its effect on adulthood. Therefore, visiting a pediatric dentist  who is an expert in dealing with issues like this can help your child to have good dental  health. 
What Factors
To Look For In The Dentist For Your Children?
The struggle is real when it comes to selecting a dentist for your children. Given below are the  major points that you can look for while making the decision. 
What are their Qualifications and Experience? 
It is important to look for the qualification and experience of the dentist. A specialized  dentist with a good amount of working experience is the right choice. In India, the qualifications of pediatric dentist involve an MDS, Pediatric Dentist.
Another aspect which the parent's can look into is the experience and reviews of the doctor. There are various testimonials, reviews and before-after pictures available today on the internet through which the parent can rummage and literally find a 'perfect fit' for their child!
Whether the environment is Children Friendly? 
The overall environment of the clinic plays one of the crucial factors in making the children comfortable. Generally, children prefer colorful and interactive surroundings to assimilate into their comfort zone. Presence of different toys, paintings of their favorite cartoons and a light-hearted atmosphere is what makes them feel lively and home. And this can definitely help the parents to avoid all the hassle that involves when they are getting their kids ready for the dentist's visit. 
Apart from having a pleasant environment, the clinic must be upgraded and up to date with the latest technological advancements. A well-equipped clinic with a good and child-friendly waiting area symbolizes a ready place to treat and take care of all oral health care treatments, including all emergencies; and emergencies when it comes to kids can be like war-time scenarios for parents. (literally!)
It is the job of the pediatric  dentist to create such an environment where the children feel safe and joyful. The  environment can make or break the children's experience on a visit to the clinic and hence  considering this factor is also important while choosing the right dentist for your children. 
What kind of services do they offer and what is their unique approach? 
The services offered differ from dentist to dentist. A pediatric dentist who is specialized  and addresses all your needs along with consultation is a good choice.
The next question that the parents should ask is what exactly is the dentist's approach? Having a proactive and preventative approach is what sets a pediatric dentist apart. The dentist should urge the parents to involve themselves in regular and timely visits to the clinic during their child's growing years as those years are some of the most crucial one's when it comes to oral health. The baby's first teething, what can be done during that time, taking care of the gums, the spurting of milk-teeth, the falling off of milk-teeth and all other aspects can be analyzed and taken care of during these initial visits.
How do they respond to Emergencies? 
This is one of the important factors that one should look for. One should go for a pediatric  dentist who can manage emergency cases and is available at the required time.  
Behavioral managerial skills
Nothing cheers up a kid more than a good chat with him/her on their favorite topics. Pediatric dentists are trained in such a way that they communicate with kids in a pleasing way by indulging them in questions, talking to them about their favorite things, variation in tones and other tactics. This helps the child to form a  bond with the dentist whom they start to look up to as a person who they can trust. This greatly helps during the treatment process. 
Also, certain moments can arrive during the treatment where the kid can tend to get nifty. Handling such a situation with utmost calm and patience is necessary. A pediatric dentist with good behavioral management skills can definitely pave the way for a smooth and hassle-free treatment.
Importance to consultation
A one-on-one consultation is a very important factor as it covers all the above aspects. It makes the parents analyze the qualifications and training of the dentist, the child's comfort level with the overall environment, the child's rapport with the dentist, the dentist's approach, so on and so forth. 
The outcome of the consultation is what matters the most as it becomes a decisive point of whether to begin the treatment or not. Hence, giving importance to the consultation is quite necessary to have a smooth road ahead. 
Picking a dentist for a child is definitely a cumbersome task. However, we hope that this blog made a lot of difficulties easier for parents who are in search of dentists to make their kids' smile even brighter!
Children With
Special Needs Need More Attention To Dental Care
Children with special needs face many difficulties and they require extra attention to dental care.  This can be a very challenging job for the parents as they might face a problem in understanding  their child's state who is not able to speak or communicate the problem faced by him/her  properly. Therefore, it's important to have a periodic checkup with the pediatric dentist and maintain the  dental health of the child.
We understand the hurdles parents face when raising children who are physically or mentally challenged. Our Pediatric Dentist Dr Pratibha Kukreja Pandit is calm, kind and understanding. Her sole focus when treating special needs children is to make the process as comfortable and as painless as possible. 
About Dr. Pratibha Kukreja Pandit
Dr. Pratibha Kukreja Pandit (BDS, MDS) is the Chief Pediatric and Preventive Dentist Specialist at Pandit Clinic.

Dr. Pratibha offers a spectrum of services like the infant's first visit to the dentist, guidance on feeding patterns which affect dental health, dental hygiene and care for kids, restorative dentistry, orthodontics, mouth guards for sports, etc.

She has trained at the prestigious Chang Gung Memorial Hospital, Taiwan, in advanced areas including Pediatric dental treatment under General Anesthesia and Intravenous sedation, Dental Rehabilitation of children with special health care needs.
You Might Be Interested In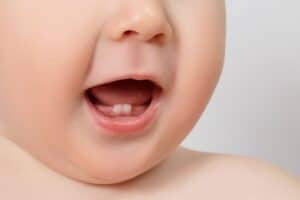 Pediatric Dentistry
Teething can be a challenging time for both babies and parents, but with patience and understanding it can be manageable. In this blog, we'll discuss
Read More »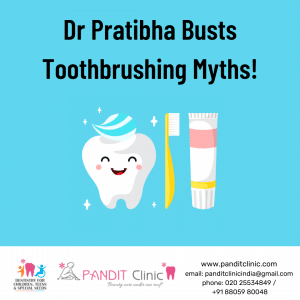 Pediatric Dentistry
Toothbrushing is a vital element for good dental care. It prevents many oral problems such as cavities and tooth infections. Getting a kid to brush
Read More »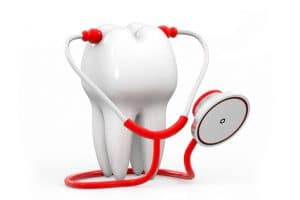 Pediatric Dentistry
Call us +91 20 25534849 Home Pediatric Dentistry Dental Emergencies We at Pandit Clinic are at the forefront of dealing with dental care emergencies. Call
Read More »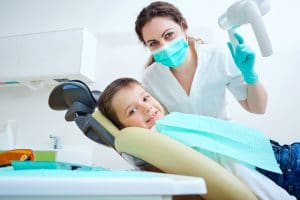 Pediatric Dentistry
book consultation Home Pediatric Dentistry Your Child's First Dental Visit A child's first dental visit is a crucial milestone in his/her growing up. It is
Read More »