Dental Care for Cleft Lip and Cleft Palate children is a challenging long term journey that requires preventive dental care, possibly orthodontics and timely check-ups with a Pediatric Dentist specialising in Special Needs Children.
Cleft lip and cleft palate is one of the most common congenital defects of childhood. As it is a defect of the orofacial region, dental problems invariably accompany cleft lip and cleft palate. 
While many surgeries are done during their childhood years, early dental care of the infant usually takes a backseat for parents and caregivers. It is important to stress on the importance of dental care in these children as early care goes a long way towards a good dentition.
Dr Pratibha Kukreja Pandit, (MDS – Preventative and Pediatric Dentist) the Expert Pediatric Dentist of Pandit Clinic, Pune takes the opportunity of the International Cleft Awareness Month (July) to address the concerns of Dental Care for Children with Cleft Lip and Cleft Palate. This blog details out all you need to know as a parent and a caregiver of a child with a facial cleft. The blog covers all issues ranging from toothbrushing challenges to teaching good oral care habits to orthodontic treatments for children with cleft.
How Does Cleft Lip And
Cleft Palate Affect Teeth Of Child?
Facial cleft poses numerous challenges in the dental development of the child according to Cleft Surgeons, Dentists and Cleft Orthodontists. The teeth in the area of the cleft may be displaced, resulting in their eruption in abnormal positions (either towards the cheek or towards the palate). 
At most times, the upper front teeth on the cleft side are involved leading to compromised cleaning of those teeth. As a part of the cleft spectrum, teeth may be deformed, hypoplastic (ill-formed and prone to decay) or sometimes missing. 
It is best to start with the preventive dental program in early childhood. Speak to a Pediatric Dentist who understands the needs of a child with cleft lip and cleft palate. The best pediatric dentist according to Dr Pratibha Kukreja Pandit will act as a guide for your child's oral health and care and development over the years.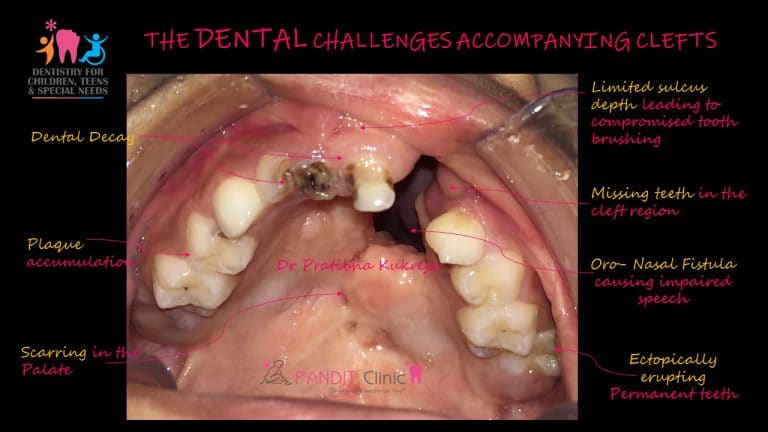 Can You Get Rid
Of Cleft Lip & Cleft Palate?
It is possible to get rid of cleft lip and cleft palate after multiple plastic surgeries, oral and maxillofacial surgeries and continuous good pediatric oral care. Parents, caregivers and doctors working as a team can defeat the problem of congenital facial cleft.
One of the most frequently asked questions by parents is about eliminating the problem of facial cleft – cleft lip or cleft palate altogether.
Dental Care For Infants
With Cleft Lip & Cleft Palate
Undergoing surgeries as an infant, toddler or young child means having to eat a lot of pasty food and syrup medication, containing sugars. Cleft Dentists and Cleft Orthodontists explain that it is important that parents and caregivers clean the gum pads and teeth of the child after every meal, big or small. This ensures that most sticky food is wiped off. This can also be supplemented with the child drinking a few sips of water after food/medicines to ensure cleansing of the oral cavity.
Can You Breastfeed Baby
With Cleft Lip & Cleft Palate?
It is possible to breastfeed a baby who only has cleft lip. Since the baby retains motor skills in the orofacial region. 
However it is not possible to breastfeed a baby who has cleft palate or both cleft lip and cleft palate. 
Which Feeding Method Is
The Best For Infants With Cleft Lip & Cleft Palate?
Mothers should use specially designed bottles to feed infants with cleft lip and/or cleft palate. Breastmilk can be pumped and added to these bottles which make it easier for the infant to drink milk properly. The secret to a healthy baby is giving him/her great nutrition through breastmilk. 
What Syndrome Is Associated With
Cleft Lip or Cleft Palate?
There are chances that children born with facial cleft may be susceptible to other genetic issues. 
One of the most common conditions is Pierre-Robin Sequence (PRS). PRS is usually detected at birth because these babies can be born with an unusually small chin. These babies usually have a cleft palate because the tongue does not fall into place properly while the baby is developing. The cleft is usually wide and U-shaped and will affect the hard palate at the front of the mouth and the soft palate at the back.  
Other rare conditions that are associated with children who have cleft lip or cleft palate include the Stickler Syndrome, DiGeorge Syndrome and Downs Syndrome among others. 
It is important to note that these conditions do not usually occur to all children with cleft lip or cleft palate. Multiple consultations with good doctors will help parents and caregivers in determining whether or not the child has any other syndromes. 
Ask Your Cleft Surgeon
For Toothbrushing Instructions:
Many times, caregivers are worried about bleeding from inflamed gingiva around the cleft region. The region looks red and parents can get nervous about pain or discomfort that might occur if the affected area is traumatised further. The best Cleft Dental Clinics will inform you that this most commonly occurs after the cleft palate surgery or the alveolar bone graft surgery when stitches are placed in those regions. Dr Pratibha Kukreja Pandit of Pandit Clinic, Pune suggests that it is best that your Paediatric dentist addresses these issues personally and gives customised solutions for toothbrushing in those areas.
Tooth Brushing Challenges
for Children with Cleft Lip & Cleft Palate
Access to the teeth in the region of the clefts is often difficult and a baby-sized toothbrush can be used until late ages till all the permanent teeth erupt. An interdental brush can also be used in these areas. 
As the positions of teeth are often disturbed, teeth often need to be targeted individually when toothbrushing and the child needs to be shown by the cleft dentist how to lift the upper lip out of the way to facilitate brushing. 
Dr Pratibha Kukreja Pandit, a Board-certified Pediatric Dentist with a special focus on children with Special Needs notes that difficulties with tooth brushing often arise as the upper permanent incisors erupt, due to lack of sulcus depth and tightness of the repaired lip. The cleaning of any anterior teeth positioned high in the labial sulcus should be given attention.
A simple test to assess a child's toothbrushing abilities can be done using the plaque disclosing solutions in the paediatric dental clinic. Showing the child and parent the cleft region in a hand mirror and disclosing the plaque deposits, especially on the teeth around the cleft assists with toothbrushing instructions. This will also help the child in coming to terms with the appearance of the cleft. At Pandit Clinic, Pune we make it a point to teach this slowly and carefully to the child and parents in-person. 
Bone Grafting Surgery
and Oral Hygiene:
Alveolar Bone Grafting (ABG) surgery is a jaw correction surgery for patients with cleft lip or cleft palate. An Oral and Maxillofacial surgeon is qualified to perform this surgery. Post ABG surgery, caregivers should pay attention to the oral hygiene of the child since it plays a vital role in recovery.
At home use of a hand-held or bathroom mirror to aid toothbrushing can be a great tool to motivate the child. Parental support with toothbrushing is helpful throughout the mixed dentition period and supervision is advised until at least 7–8 years of age. The use of preventive age-appropriate mouthwashes should be discussed with the Pediatric dentist.
Pit and Fissure
Sealants Treatments:
The best cleft clinics will explain that pit and fissure sealants are an important consideration for children with Cleft lip and cleft palate. The procedure is advisable for first and second permanent molars, and premolars where indicated. Fissure sealing should be carried out as soon as the teeth have erupted sufficiently and should be re-evaluated at subsequent visits.
The application of fluoride varnish is a valuable preventive measure. It is particularly useful for hypoplastic permanent incisors, areas of early demineralisation, teeth in the cleft region and partially-erupted permanent molars prior to fissure sealing.
Patients with a cleft lip and cleft palate often undergo a long course of appliance therapy and orthodontics (braces) in conjunction with Orthognathic surgery to correct the jaw relationship. During these periods, the use of Orthodontic toothbrushes, fluoride-containing mouthwashes and remineralising agents should be stressed.
We, at Pandit Clinic, Pune understand that cleft dental care is a continuous process and needs routine follow-ups and multiple dental visits. It is the role of the Pediatric dentist and the parent to establish a dental home wherein the medical records can be reviewed on a regular basis and an interdisciplinary approach can be administered.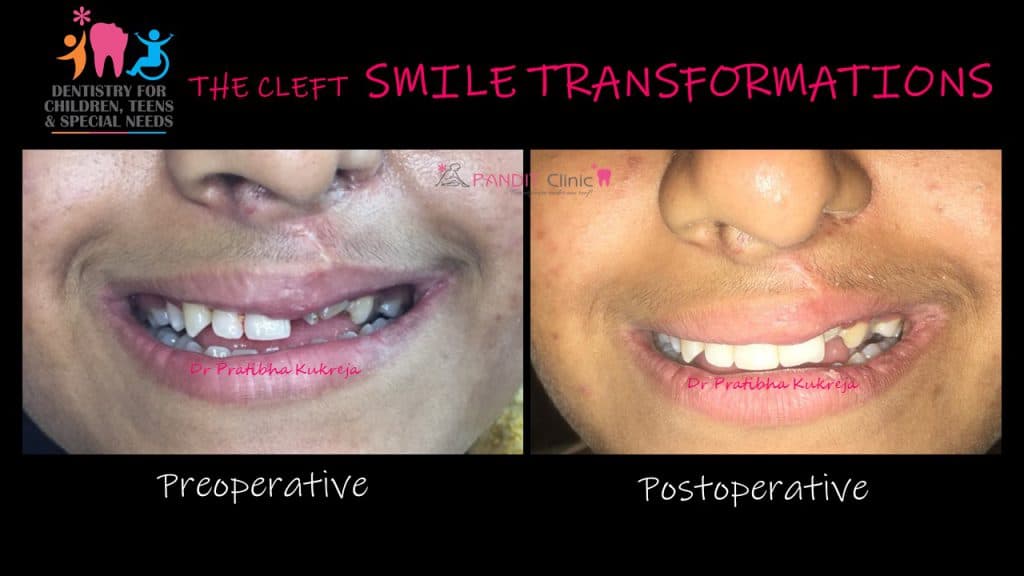 Once again the main role of the dentist is to help the patient maintain good oral health and prevent dental disease. As school commitments and schedules increase, it is imperative that children and young adults are encouraged and supported in carrying out the appropriate preventive measures and making them aware of the importance of attending both orthodontic and regular dental check-up appointments.
For any more enquiries, please connect with Pandit Clinic, Pune on +91-8805980048 or panditclinicindia@gmail.com
Why Choose Us For Your Child's Special Needs?
Pandit Clinic, Pune has a record base of more than 7000 cleft surgeries and a wide experience in the field of Clefts, including cleft dentistry, cleft orthodontics,  cleft rhinoplasty and Orthognathic surgeries, all under one roof. 
You Might Be Interested In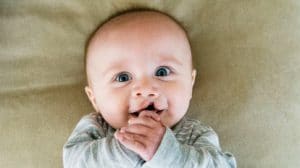 Cleft lip and cleft palate
Cleft Palate surgery called "palatoplasty" repairs the birth defect of cleft palate in the baby. This surgery is performed on the child during infancy by
Read More »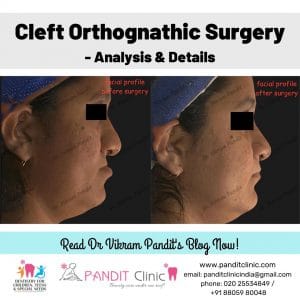 Cleft lip and cleft palate
Cleft Orthognathic Surgery is a surgery performed by a Oral and Maxillofacial Surgeon on a patient of Cleft Lip or Cleft Palate to reshape the
Read More »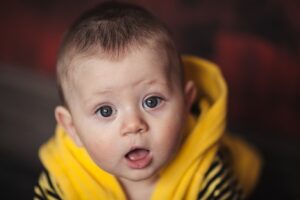 Cleft lip and cleft palate
Call us +91 88059 80048 Home Plastic & Cosmetic Surgery Cleft Lip and Cleft Palate At Pandit Clinic, we have a very special expertise in
Read More »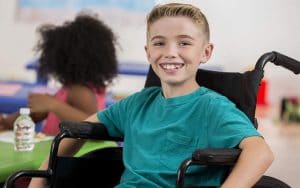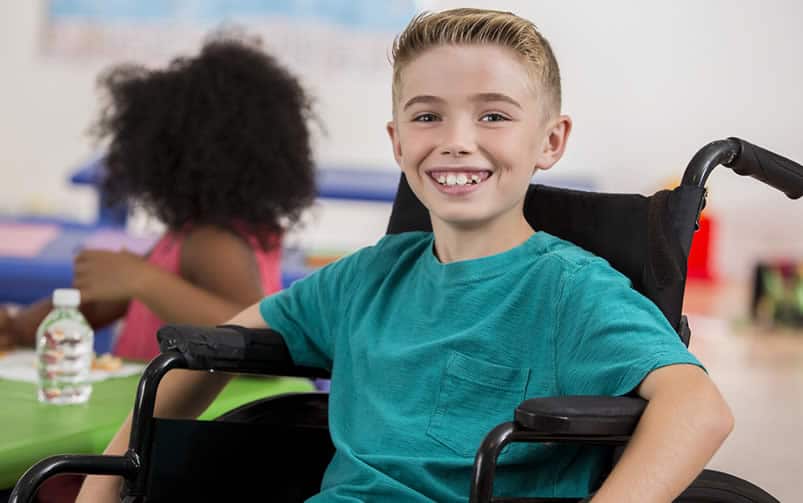 Cleft lip and cleft palate
Call us +91 20 25534849 Home Pediatric Dentistry Dentistry for Special Needs Children At Pandit Clinic, we welcome children with special needs with open arms
Read More »