Primary or milk teeth are responsible for many essential functions of our young ones, like chewing, smiling, talking, and maintaining space in the jaws for the developing permanent teeth.
Pediatric and preventive dentist Dr. Pratibha Kukreja Pandit explains that if a primary tooth is lost early due to trauma, accidents, or tooth decay, it can lead to malocclusion (the misalignment of teeth).
Therefore, parents or guardians must timely monitor the mixed dentition stage, which is the period between the shedding of milk teeth and the eruption of all permanent teeth. This can avoid long-term dental problems arising from premature loss of milk teeth.
What Are The
Reasons For The Early Loss Of Milk Teeth?
According to pediatric dentist Dr. Pratibha, two major reasons for the early loss of milk teeth are:
Tooth removal (extraction) due to cavities: Childhood cavities are common as baby teeth are much more susceptible to dental decay than adult ones. In extreme cases, if cavities have caused extensive damage to the tooth or the surrounding bone, the dentist may opt to extract (remove) the tooth. Therefore, any small visible cavity should immediately be restored with dental fillings to prevent early loss of teeth.
Tooth loss due to accidents or trauma: As children play and develop motor skills, accidents are bound to happen. Premature loss of milk teeth due to trauma can cause eruption disturbances in permanent teeth and orthodontic issues with erupting permanent teeth.
What Are The
Problems Caused By Early Loss Of Teeth?
When children lose their baby teeth before time, it can cause:
To prevent these problems and other orthodontic problems in the future, orthodontic appliances known as space maintainers are used.
What Is Teeth Crowding?
Dr. Pratibha Kukreja Pandit of Pandit Clinic, Pune, discusses teeth crowding and ways to treat teeth crowding here.
What Are
Space Maintainers In Dentistry?
Space maintainers are customized intraoral appliances used in pediatric dentistry to prevent the eruption of permanent teeth in the wrong position when a milk tooth is lost prematurely. They help to maintain the space for the developing permanent tooth until its eruption at a later date.
Space maintainers help prevent malaligned teeth, overcrowding, and orthodontic problems like open bites, deep bites, or crossbites.
Be assured that Dr. Pratibha Kukreja Pandit, Pediatric Dentist of Pandit Clinic, Pune, can help you with any kind of space maintainer your child may need.
What Are The
Different Types Of Orthodontic Space Maintainers?
There are three major types of space maintainers in dentistry:
Fixed unilateral orthodontic space maintainers:
Band and loop space maintainers:
The band is cemented on the primary second molar, and the loop is extended till the canine to help maintain space after the primary first molar is lost due to any of the reasons listed above.
Distal shoe:
The distal shoe is also a unilaterally fixed space maintainer. The distal shoe helps to maintain space in cases when the primary second molar is lost prematurely and the first permanent molar has not yet erupted. This appliance fits over only one tooth and has a wire which extends into the space where the permanent molar has to erupt to help guide it into its proper place.
Fixed bilateral appliances:
These are metal space maintainers fixed on both sides of the dental arches to maintain space where usually multiple teeth are lost.
Some popular types are the lingual arch, transpalatal arch, and Nance arch.
The Process Of
Space Maintainer Fabrication And Follow-Up:
As space maintainers are customized appliances, there is no one size that fits all. Once a decision about the type of space maintainer is discussed and made, an impression (measurement) of the site is made. The impression is then sent to the dental lab and a space maintainer is fabricated. At the second visit (roughly 3-7 days after, depending on the type of space maintainer), the space maintainer fit is checked in the patient's mouth. Minor adjustments, if required, are done. The space maintainer is then cemented in the patient's mouth and all the necessary and relevant instructions are given.
Generally, a follow-up is recommended after a week to adjust minor sore points and evaluate gum health. Three to six-month follow-ups are recommended to check for the integrity of the appliance, oral health, caries risk factors, and the position of the new tooth.
What Are
Pre-Formed Space Maintainers/Single-Visit Space Maintainers And Why Are They Used?
In some cases, multiple visits for space maintainer fabrication and cementation are not possible. This may be the case when the child's uncooperative and the dental treatment is being carried out under general anesthesia. In such cases, Pandit clinic, Pune, has the facility to deliver the space maintainers in a single sitting. However, this technique is valid for limited cases with proper selection.
When Do
Space Maintainers Need To Be Removed?
Pediatric dentist Dr. Pratibha Kukreja Pandit suggests that space maintainers be kept in position until the permanent tooth is ready to erupt. In some cases, no permanent teeth are waiting to be erupted due to reasons like:
In such situations, the same space maintainer or a new one will be used until the completion of your child's growth, i.e. till the age of 16 to 18 years.
If your child has lost a milk (primary) tooth early, it's essential to seek treatment as soon as possible. Space maintainers can help keep the teeth in place and prevent future problems with malocclusion. If you have any questions or concerns, please don't hesitate to contact us on +918805980048 / +91-7888229284 or book an appointment with Dr. Pratibha Kukreja Pandit.
Virtual Video Consultations
100% SAFE AND SECURE CALLS WITH ENCRYPTION. YOUR PRIVACY AND CONFIDENTIALITY IS GUARANTEED.
Start here, by making an appointment for a virtual consultation with our expert Dr. Pratibha Kukreja Pandit (NEW PATIENTS ONLY).
Dr. Pratibha Kukreja Pandit is available for Virtual Video Consultations from Monday – Saturday between the hours of 11 am – 2pm and 4pm – 7pm.
If you are already our valued patient with questions or have an emergency please contact the clinic on +91 9822053446
You can also book an in-clinic appointment
Consult
Dr. Pratibha Kukreja Pandit


(Pediatric Dentist)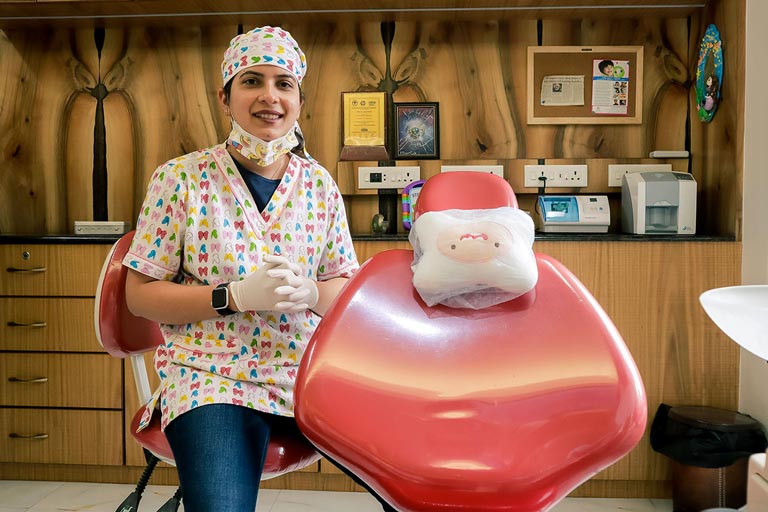 Virtual Video Consultation Fees
Rs. 500
The Consultation Fees Must Be Paid Online by
GOOGLE PAY

BEFORE YOUR APPOINTMENT. See The Instructions On Appointment Confirmations
Your virtual video consultation includes:
Pediatric and Preventive Dentistry Specialist
Dr. Pratibha is the Chief Dentist at Pandit Clinic. She is also a Consultant Pediatric Dentist at Kotbagi Hospital and KEM Hospital, Pune.
Dr. Pratibha has trained at the prestigious Chang Gung Memorial Hospital, Taiwan, in advanced areas including Pediatric dental treatment under General Anesthesia and Intravenous sedation, Dental Rehabilitation of children with special health care needs, and Nasoalveolar molding and dental rehabilitation of cleft lip and cleft palate.
She's the lifetime member of Student Clinician Association, American Dental Association (SCADA), USA.
Professional Affiliations and Skills
You Might Be Interested In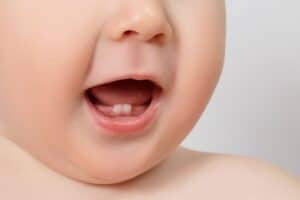 Pediatric Dentistry
Teething can be a challenging time for both babies and parents, but with patience and understanding it can be manageable. In this blog, we'll discuss
Read More »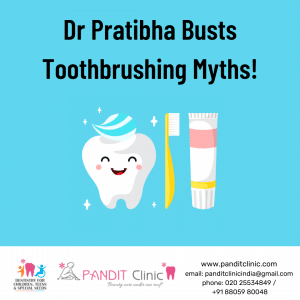 Pediatric Dentistry
Toothbrushing is a vital element for good dental care. It prevents many oral problems such as cavities and tooth infections. Getting a kid to brush
Read More »