Autism or Autism Spectrum Disorder is a developmental disorder that leads to problems in social, communication and normal developmental skills. Dental care for children on the autism spectrum is therefore a big challenge that can be tackled by pediatric dentists focussing on special needs kids.
Do you worry how your child will cope up with the dental visit?
Is your child having troubles while tooth brushing?
Well, good dental care is an absolutely vital habit which ought to be inculcated at a young age. Kids often imitate their parents and tend to follow an example set by their parents in terms of oral health care.
Right from holding their first toothbrush to their first visit to the dentist, parents play a major role in imbibing good dental hygiene practices. However, following regular dental hygiene for kids on the autism spectrum can be a difficult task. Along with it being difficult, it can also be stressful and worrisome for their parents.
April 2nd is globally recognized as Autism Awareness Day and the month of April is honoured as the Autism Awareness Month by various organizations worldwide. Dr Pratibha Kukreja Pandit (MDS, Pediatric and Preventive Dentist) of Pandit Clinic, Dentistry for children, teens and special needs, Pune would like to take this opportunity to discuss the routine dental care challenges faced by children on the Autism Spectrum and give some simple tips to help their parents and caretakers in this regard.
Before diving into dental care let us learn a little more about Autism.
Autism is primarily a disorder that affects the social, communication and verbal skills of the child. It is often noticed in kids during their infancy or when they are toddlers. The first signs of autism can be noticed when the child suddenly stops responding to their name, lack of eye contact with their parents, stop making previously known utterances, indulge in repetitive actions or utterances, etc. Apart from that, autism in children may also affect their sensory responses.
'Autism Spectrum' is generally the term used to refer to the varied symptoms and the severity of the said symptoms. Common symptoms of autism involve persistent differences in communication skills, difficulty in maintaining interpersonal relationships, difficulty in facing transitions in routines, sensory difficulties, etc.
The cause of autism is still unclear. However, early detection and therapy can considerably improve the condition of the child.
With all of these issues, it becomes difficult for parents to imbibe long-lasting dental care habits amongst children with autism.
Pandit Clinic, Pune is one of the few clinics which offer a full range of Paediatric Dental Care for all children with Special Health Care Needs. Based on my knowledge and professional experience with special needs children, I am sharing some simple but essential tips that can be taught to children on the autism spectrum holistically to maintain their dental hygiene and lessen the stress of parents on this issue.
Choosing
The Right Toothbrush
The choice of toothbrush is an important factor when it comes to implementing dental hygiene in the long run. In case of kids on the autism spectrum, regular toothbrushes might turn out to be harsh considering their sensory difficulties. 
I advise parents to choose a toothbrush with soft or extra-soft bristles. Slow and gradual brushing with soft toothbrushes make the experience of toothbrushing pleasant and not scary. If the toothbrush is hard or rough by texture, then these kids might avert from brushing thus paving the way for unhealthy teeth and gums, leading to cavities. Hence, choosing the right toothbrush helps greatly. 
Keeping in mind the child's choice also matters. Using different types of creative toothbrushes like one with pictures of their favourite cartoon characters, colourful designs, varied shapes like cars or dinosaurs, etc also makes them feel more confident and happy while following their daily yet important routine of brushing their teeth.
For older children, using electronic toothbrushes with mild vibrations greatly helps the children in cleaning their mouths well. If the child has difficulty in understanding the brushing method, the parents or caretaker can assist them, or even brush their own teeth in front of the children so that they can imitate and thus gradually learn how to brush. But as a dentist for kids in Pune, I urge parents to first seek approval from their Paediatric Dentist on whether or not to introduce their child to an electric toothbrush.
Also, gradually introducing them to flossing and tongue cleaning technique helps them to further insinuate better oral hygiene practices.
Maintaining
A Healthy Diet
A good diet is the only way towards a healthy lifestyle. Following a healthy and balanced diet not only improves the overall health of the child but also makes sure that their teeth remain healthy and cavity-free. 
It is difficult, albeit necessary to have a fixed diet for children with autism. Parents must be ready to experiment and try various food habits along with their children. 
I have observed that children with autism tend to have strong likes and dislikes when it comes to food. Trying different foods that are rich in vitamins and different nutrients is absolutely necessary for maintaining good oral health. Apart from that, including calcium-rich food is a must for stronger teeth and gums. But it is necessary to consult your Pediatrician before you make obvious changes in a child's diet.
While deciding on a staple diet, it is necessary for parents to keep their kids away from a lot of sugary foods as they pave the way for cavities and unhealthy gums. Talk to your local dentist for special needs kids about the specific kind of right food and diet. Keeping a balanced and healthy diet is highly beneficial when it comes to taking care of the oral health of children with autism.
Fix it
as soon as you spot it
At various occasions, small cavities in teeth go unnoticed in children. Many times, parents aren't aware of how a tooth cavity looks like! A general notion among many parents and grandparents is that cavities in milk teeth don't need to be fixed. Let me present to you the first signs of cavities and its progression over a period of time. This can be a useful guide when spotting cavities or hypomineralized areas that need to be treated as soon as they are seen.  At Pandit Clinic, Dentistry for Children, teens and special needs in Pune believe that 'a stitch in time saves nine'.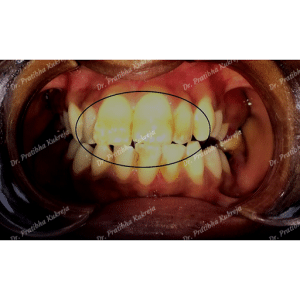 Incisor Hypomineralization as seen in an 11-year-old boy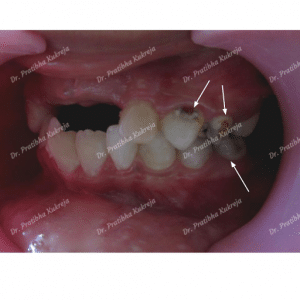 Initial tooth decay in upper teeth in a 6-year-old child. At this stage, they may not show any symptoms like pain.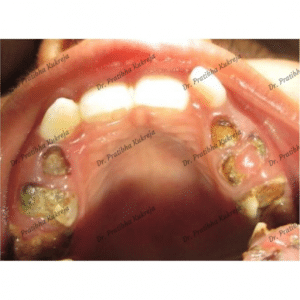 Advanced stages of tooth decay seen in an 8-year-old child.
How Do I Get My Autistic
Child To The Dentist?
Before you take your child to the dentist make sure you have spoken to the dentist about your child and his/her special needs. Search for a dentist who understands the needs of a child on the Autism Spectrum well. Talk to your child and make them comfortable with the idea of a dental visit. Be prepared for mood swings or hostile beahviour because the child may not react positively in a dental clinic environment at the get-go. 
How Can I Calm Down My Autistic
Child At The Dentist?
First off as a parent start preparing your child mentally in advance for the dental visit. Talk to him/her of the importance of the dental visit. Talk to him/her about how easy and simple the visit will be. 
Show them positive results that will come out of this visit. 
When you are at the dentist's clinic, engage him/her in a fun conversation and make him/her comfortable with the environment. Speak in a gentle and reassuring manner throughout the visit. 
Offer positive reinforcements such as "good boy", "brave girl" and so on when he/she co-operates with the pediatric dentist. 
Maintain eye contact and always be there for the child. 
How Do I Decide Who Is
The Right Dentist For My Autistic Child?
Before you take your child to the dentist make sure you have spoken to the dentist about your child and his/her special needs. Search for a dentist who understands the needs of a child on the Autism Spectrum well. Talk to your child and make them comfortable with the idea of a dental visit. Be prepared for mood swings or hostile beahviour because the child may not react positively in a dental clinic environment at the get-go. 
Worldwide, fear has been ranked as an important factor to avoid dental visits. And with children, it's no different. An important aspect that parents with a child on the autism spectrum must look at and consider is the appropriate qualifications of the dentist. Pediatric dentists undergo special training to better understand the needs and oral health requirements of children. They are professionally trained to gently treat children. 
Paediatric Dentists also have a keen interest in child psychology. Special Needs Dentists are dentists who have taken some additional education to learn about the dental needs of special needs children and how to treat them. e.g: differently-abled children, children suffering from Down's syndrome or children on the Autism spectrum. 
Apart from the qualifications, the dentist ought to have a proactive approach which helps in taking the necessary precautions before the issue even arises. Treating children with autism can be a challenging task, thus, the dentist must have an excellent behavioural management skill which helps the kid to form a bond with the dentist and trust them completely. When a comfort level is established with the dentist, the parents feel relieved too. 
It is necessary to make dental visits for children with autism comfortable and easy. Hence, being compassionate towards the needs and requirements of children with autism is absolutely necessary for having a good 'dentist-patient' relation to having smooth sailing ahead. 
Thus, choosing the right dentist with all the necessary qualifications and skills is also quite an important aspect which must be considered when considering the oral health of children with autism.
Why Choose Us For Your Child's Special Needs?
We understand the hurdles parents face when raising children who are physically or mentally challenged. Our Pediatric Dentist Dr Pratibha Kukreja Pandit is calm, kind and understanding. Her sole focus when treating special needs children is to make the process as comfortable and as painless as possible.
Timely Visits
To The Dentist
Timely visits to the dentist play a major role in maintaining a healthy mouth in the long run. It is necessary to constantly monitor the oral health condition of children with autism in their growing years. There is a huge misconception that it is not necessary to take care of milk teeth as they eventually fall off. However, unhealthy milk teeth often affect the diet of the child as it becomes difficult for them to eat food due to constant toothaches, unhealthy and weak gums, cavities, etc, this further has a negative impact upon the permanent teeth that grow.
Frequent and timely visits in the growing years of children with autism to the dentist help in keeping the milk teeth healthy. It also helps the dentist in keeping a track of the teeth that fall out and the permanent teeth that sprout up. It's like teamwork, where the role of each member of the team is important!
Inculcating good oral hygiene habits in children with autism can be a cumbersome task. However, we hope that this blog made a lot of difficulties easier for parents who are in search of dentists to make their kids' smiles even brighter!
In case you have any queries or doubts regarding the dental care of your child or special needs child, please reach out to Dr Pratibha Kukreja Pandit via panditclinicindia@gmail.com or +91-8805980048 and we will be happy to help you.
You Might Be Interested In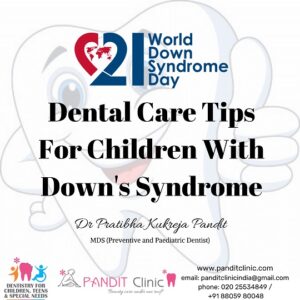 Dentistry For Special Needs
Today, the 21st of March is marked as World Down Syndrome Day to create public awareness about Down Syndrome. Down's syndrome is a genetic disorder
Read More »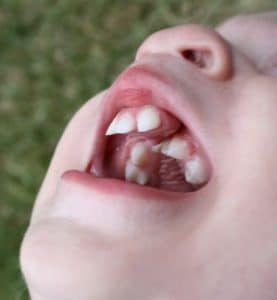 Cleft lip and cleft palate
Dental Care for Cleft Lip and Cleft Palate children is a challenging long term journey that requires preventive dental care, possibly orthodontics and timely check-ups
Read More »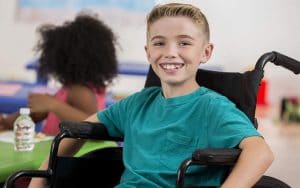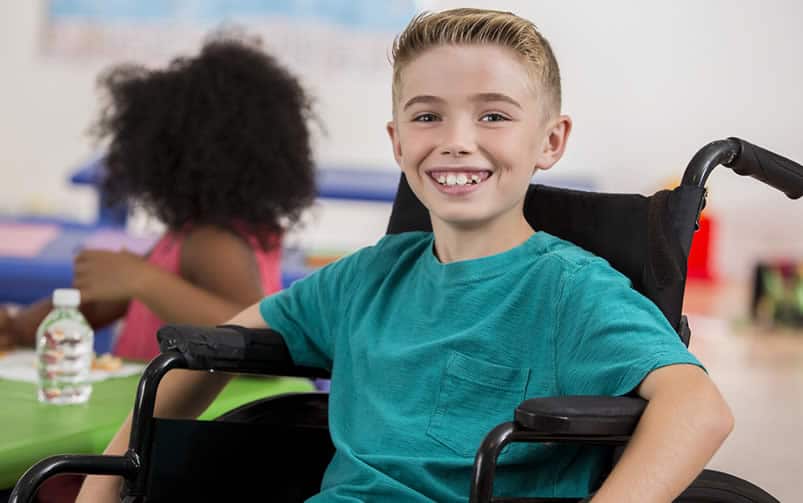 Cleft lip and cleft palate
Call us +91 20 25534849 Home Pediatric Dentistry Dentistry for Special Needs Children At Pandit Clinic, we welcome children with special needs with open arms
Read More »